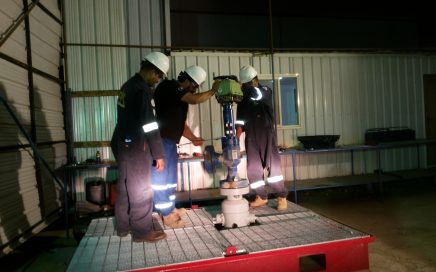 Flare Petroleum Services established in 2002 is an ISO 9001:2015, ISO 14001:2015 & OHSAS 18001:2007 certified company that recognized as one of the leading oil services company in Kuwait. We focus on developing Artificial Lift services and solutions along with other oil field services.
Our Services are an important and rapidly evolving component of our business, and a key driver of our performance.Being able to offer Solution Based Services therefore remains our top priority
We aim to create seamless services using a mix of digital solutions and traditional approaches
We remain closely engaged with our clients across all key contact points, As we strive for excellent customer satisfaction, our focus is on interacting with our customers in a way that is personalized and directly relevant to each individual.
We attribute our success to our people, their commitment and work culture.Our highly motivated professionals work to meet client deadlines across international times zones, seamlessly delivering projects.The only way is with great people who truly enjoy their job, so we make sure we only hire the best.Talent goes beyond a keen eye for design or a qualification on a piece of paper.We live and breathe what we do, we're enthusiastic and take pride in doing the best work we can
With the support of the most reliable manufacturers in the world Flare Petroleum Services is an undisputable leader in supply of equipment & services in Oil & Gas Field operation